MAYbe, we are just that good.
Well team, we've done it again!
Another excellent month of SAFELY performing essential services to our community. Our safety record is running strong and we are even better than we were this time last year.
Operating through another month where many counties are still shelter-in-place, we're very proud of our A Plus team. We've proven time again that we're not afraid of challenges and it seems we thrive in finding solutions.
We've also got some pretty cool stories to share.
So, enjoy!
AN UNSTOPPABLE CREW WITH RAVE REVIEWS
Under these masks are a mighty, and friendly, crew of 3. They are part of the utility division in the South Bay area and a majority of the work they do is called "TAG" work.
TAG work is tree work that is done in advance of electric construction crews. For example, trimming or removing trees too close to the pole, or tree work blocking access to the pole.
Here's the thing: The work can vary from 1 to 6 jobs in one day AND is often on residential properties and in backyards of homeowners. One job might have a canopy that spans over 3 different yards.
Think about this for a moment…and how many homeowners they may interface in ONE day. Think about how many Silicon-Valley-Gold-Standard-Customer-Service-Expectations they have to meet!
Yet, these men keep bringing in the 5-star reviews. Here are a few snippets from the latest ones:
"Our first experience with A Plus was exceptional. Professional, thorough, punctual, reliable, and very competent. Anthony and the PG&E "cleanup" crew did first-rate work."

"Anthony was very professional, polite and he notified me a half-hour prior to arriving. He and his team did a really great job. I appreciated that he took the time to confirm his customer's satisfaction once his work was completed. Talk about an A+ job!"

"They came, studied from all angles a dangerously overgrown tree, then fixed the problem taking care and shielding a delicate fence from falling limbs, leaving the property much improved and the owner very appreciative. My kudos go to Anthony and the rest of the crew for an excellent job."
These reviews are a testament to how consistent they are on their APLUS-game in tree work, clean-up, and client interaction.
Thank you guys for all your top-notch work and for representing the rest of our great crews so well!
BIG EUCS, LOTS OF BEES, NBD.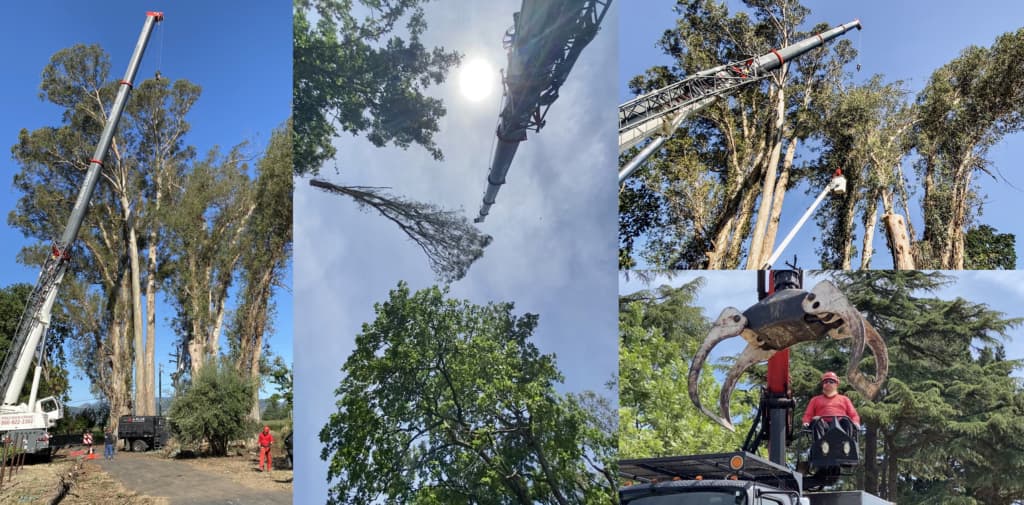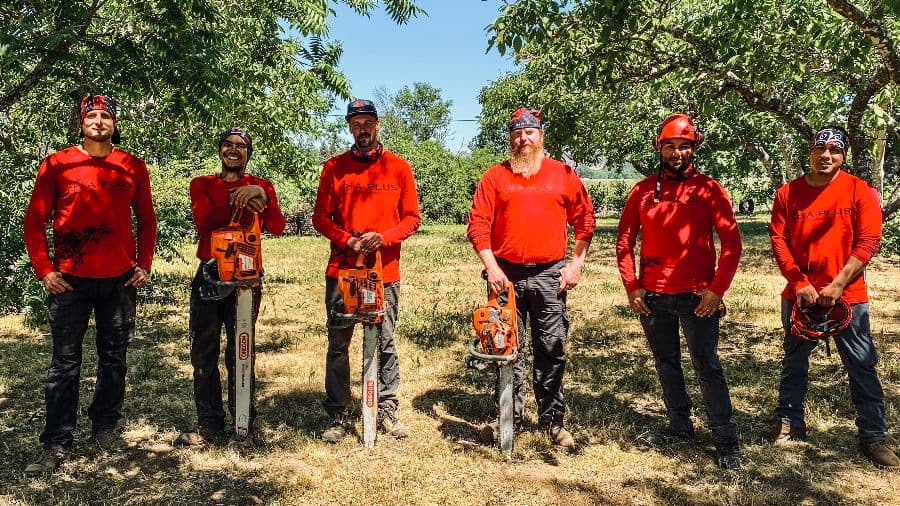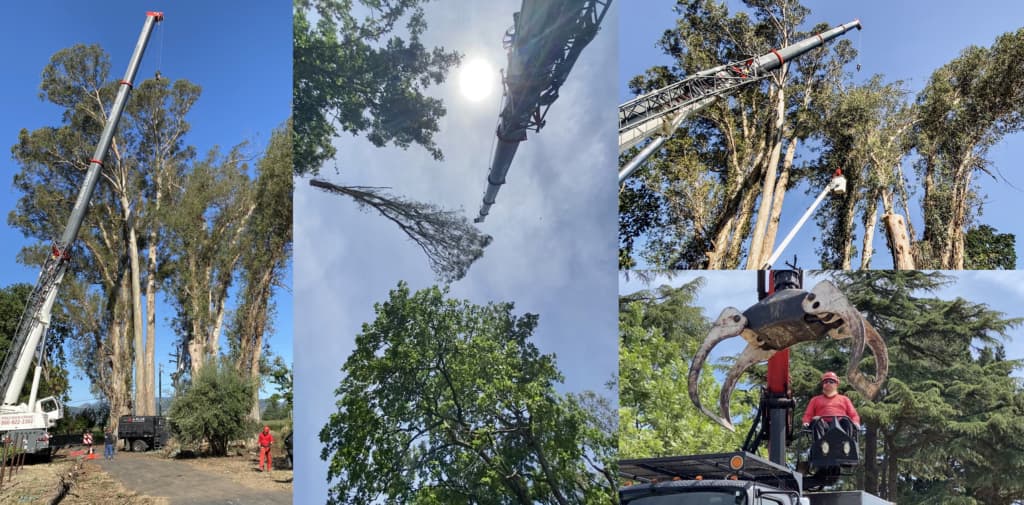 A rockstar team was on UFM (Urban Forest Manager) Nic's big Euc job in Napa.
Jayce led his crew while Danny and Rob took turns switching off days rigging out the pieces, with David on the loader.
It was 6 days of smooth operations: 11 trees towering over powerlines, some reaching as tall as 150 feet, and 9ft DBH!!
They used a 265-ton crane acting as a 150 ton with counterweights. Our Crane Operator Eric, from Precision Crane, made this comment to the team,
"Very few crews have their sh*t together. You guys are definitely up there in terms of other tree companies I've worked with. You guys have the right equipment to keep it moving."
As if the job wasn't challenging enough, Danny found 3 huge beehives in the trees.
What did he do?
He suited up, carefully rigged them out, and called up our local beekeeper partner, Rob Keller with Napa Valley Bee Company.
Rob's a huge fan of the A Plus crews and provided these accolades:
"Man, A Plus is awesome! What sets them aside from everyone else I deal with (and man, I deal with a lot of tree companies in this area!) is this:
1) The equipment they have, by far. And 2) The commitment they have to save these bees."
We've worked with Rob on several jobs in the past and have provided 7 other hives to a Montessori School in the area.
What should you do when you encounter a beehive on your job?
Don't be afraid of the bees. Panic and chainsaws don't go well together.
It's important that you lower the logs down instead of cutting and dropping (or else the hive will explode).
Place the log on the ground in the same orientation as it came out of the tree.
Call up a local bee nursery or someone who can connect you with one.
There is actually one more fascinating story around this job and what happened to some of the logs. But we'll save that for another time.
Onto the next…
USING A RESISTAGRAPH TO DETECT DECAY
A resistograph is a mechanical resistance measurement device able to detect wood decay, stages of rot, hollow areas, cracks, and ring structure.
The image below is the tomography reading from the resistograph on the Douglas fir tree they inspected.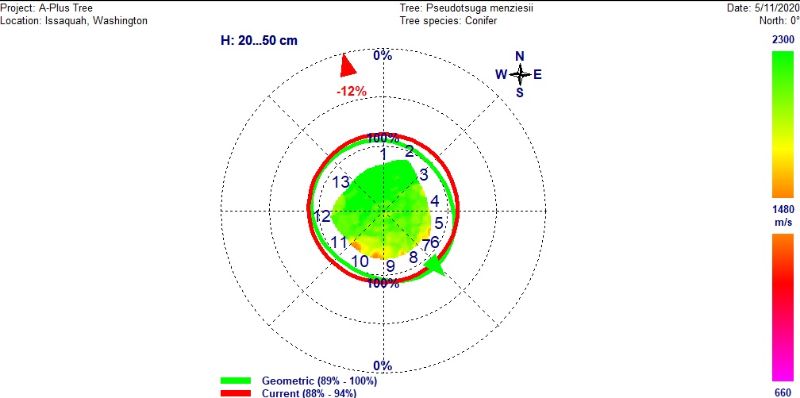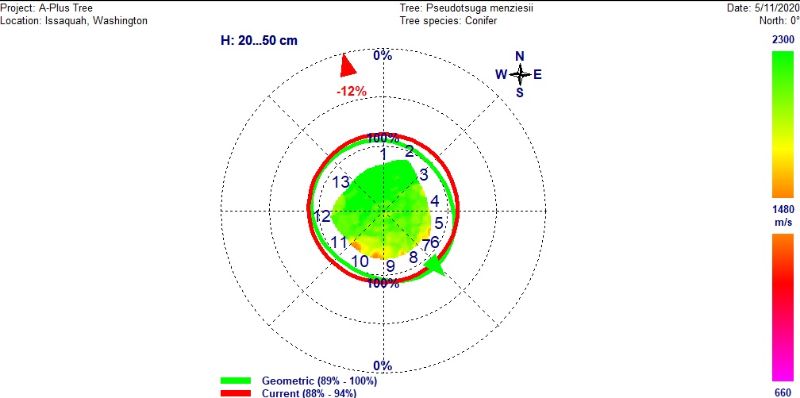 What does the reading mean?
The interpretation of the image above shows there is some sapwood wood decay related to a lightning injury, but this appeared to be sealed over at least where they tested at the lower trunk.
There is also some incipient heartwood decay that they will keep an eye on and retest in the spring after next.
Currently, the tree has lost some load-carrying capacity at the test area. Though we can not guarantee that this tree will not fail, based on the one area we tested, the tree can be retained though it should be pruned to have the large (>2″ in diameter) deadwood removed.
This is a great tool for comprehensive tree inspections and tree risk assessment!
---
Goodbye May. June, let's keep singing the A Plus tune.
Leaf out. ✌️