What is Tree Health Care?
Tree Health Care, also known to some in the industry as Plant Health Care (PHC) is the holistic approach to the health and care of our trees, shrubs and surrounding plant life. It's a total health care solution that focuses on developing and maintaining the health of our urban forest.
Give your trees some THC, and let them live their best life.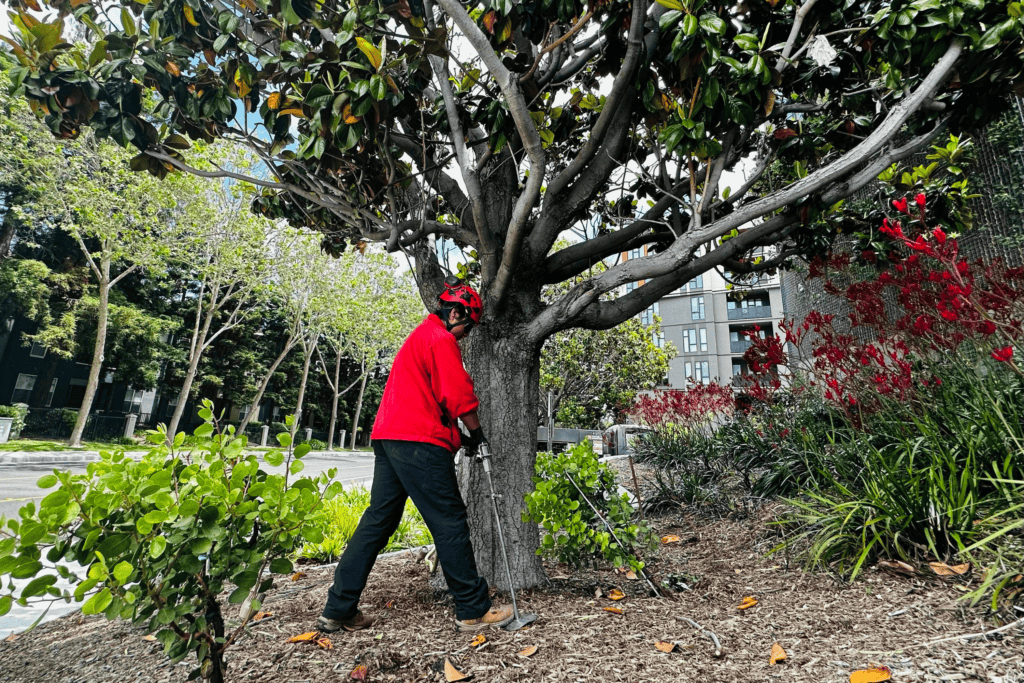 Tree health starts from the ground up.
One of the most common questions we get asked is…
"What's wrong with my tree?"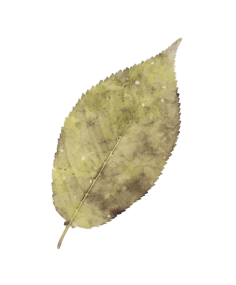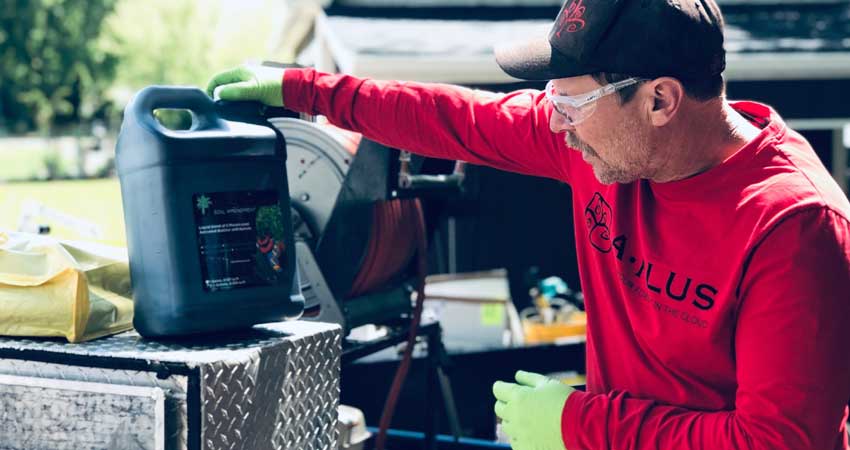 When primarily caring for trees in the urban environment, our trees are facing issues that are not normal in nature. Site condition issues such as compact soil, nutrient-poor soil, insufficient water, and limited growing space are some of the factors that can "stress" out a tree. And when trees are in a "stressful" environment, they are more likely prone to pests and diseases.
Treating soil, pests, and diseases is often the root of the issue. Learn more about what could be the cause of your tree's stress below.
Nutrient-Poor Soil
Recommended Treatment: Fertilizers and Biostimulants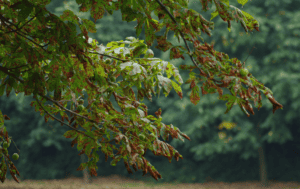 If your trees look yellow or stunted, they might not be getting enough nutrients from the soil. Urban trees are stripped of the forest leaf litter they're used to, so they may need a little nutrient boost. We offer a mix of fertilizers and biostimulants to:
Add essential elements, such as nitrogen, iron, zinc, copper, and boron.
Add organic matter and slow-release nutrients to mimic natural forest soils.
Add microbes that break down soil organic matter and release nutrients.
Create a healthy soil environment to cultivate beneficial microbes and optimize root health.
Compact Soil
Recommended Treatment: Biochar Soil Amendment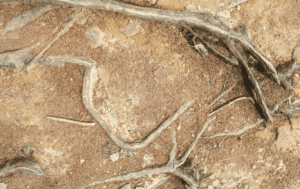 Urban soils are often compacted by traffic and construction, which suffocates tree roots from lack of air space. Water and nutrients also have a tough time penetrating the ground. A quick, budget-friendly way to improve soils is to add Biochar, a plant-based soil amendment, that can:
Improve soil structure and porosity.
Increase water and nutrient retention.
Reduce nutrient leaching and need for fertilizers.
Create a good habitat for beneficial soil microbes.
Small Soil Volumes
Recommended Treatment: Tree Growth Regulator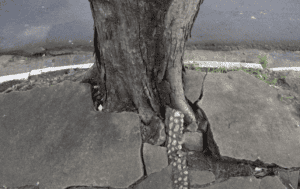 Trees are sometimes planted in small soil volumes, stressing the trees especially when combined with soil issues like compaction or drought. Trees can also damage surrounding infrastructure as their roots and branches outgrow the planting site. Protect your trees and your hardscapes with Tree Growth Regulator to:
Reduce tree growth.
Reduce pruning needs and hardscape damage.
Increase fine root growth and water absorption.
Increase tree tolerance of drought, pests, and diseases.
Here's a rundown of the most common urban tree diseases! We provide a variety of treatments depending on disease type, severity, environmental concerns, and tree size and species.
Nutrient-Poor Soil
Examples: Aphids, Mites, Scales, Thrips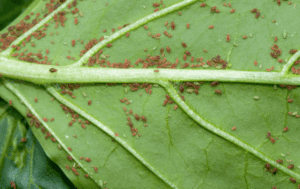 Piercing-sucking insects are one of the most common urban tree pests. They insert straw-like mouthparts into the tree and feed on the tree's sugary sap. This causes issues such as:
Leaf curl and discoloration.

Tree stress and dieback.

Honeydew deposits (excess sap secreted by pests), which causes a sticky mess.

Unsightly fungal growth on honeydew deposits.
Leaf-Chewing Pests
Examples: Caterpillars, Oakworms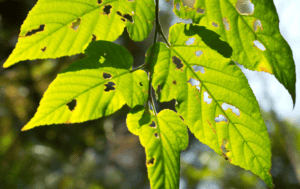 If your tree's leaves are riddled with holes or look tattered, chances are you have caterpillars. These moth and butterfly larvae are voracious leaf feeders, causing issues like:
Leaf loss and dieback.

Tree stress and decline if repeated leaf loss occurs.

Increased susceptibility to other pests and problems.
Wood-Boring Pests
Examples: Bark Beetles, Emerald Ash Borer, Invasive Shothole Borer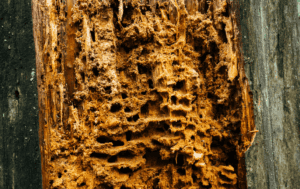 These are the most dangerous tree pests! Wood-boring pests tunnel into tree trunks and branches, making it harder to notice them. By tunneling into the tree, wood-borers create a whole hosts of issues, including:
Interrupted transport of water and sap.

Weakened tree structure.

Increased risk of tree failure.

Tree death.
Here's a rundown of the most common urban tree diseases! We provide a variety of treatments depending on disease type, severity, environmental concerns, and tree size and species.
Foliar or Leaf Diseases
Examples: Anthracnose, Blight, Leaf Spot, Powdery Mildew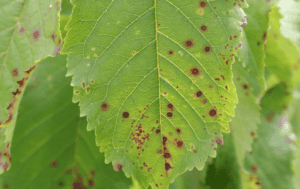 Curled, moldy, discolored, or spotted leaves are often caused by all manner of fungal and bacterial diseases. Beyond being a cosmetic issue, these diseases also cause the following health problems:
Decreased photosynthesis.

Tree starvation.

Stress and dieback.

Increases susceptibility to other stressors.
Stem or Trunk Diseases
Examples: Blue Stain Fungus, Pine Pitch Canker, Sudden Oak Death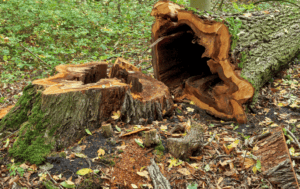 Many stem or trunk diseases are invisible upon initial infection. And after symptoms are visible, successful treatment is very difficult. Protect trees by treating preventatively and keeping up with a regular tree maintenance routine to minimize likelihood of issues such as:
Sap ooze.

Cankers and discolored bark.

Stem and trunk failures.

Tree death.
Root Diseases
Examples: Armillaria, Phytophthora, Verticillium Wilt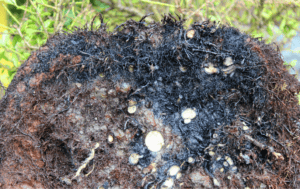 Root diseases can be silent tree killers. Since symptoms happen below ground and inside roots, they're difficult to spot until decay is evident and too late to treat. The best practice is to treat preventatively and maintain healthy trees to help prevent issues like:
Root decay.

Trunk base decay.

Whole tree failure.

Tree death.
Trees need physicians too
A Plus we have dedicated teams that specialize in the health and management of your trees. They are experienced Tree Health Care (THC) specialists that can provide proper solutions for your trees at any stage. Our THC specialists can treat various types of tree pests, bugs, diseases, and diseased trees with tried and true treatments that are environmentally safe and effective.
Of course, there are also some serious pests and diseases that we may not be able to do much about depending on the extent of infection or infestation, but this is why preventative treatment is so important!