Vegetation Management and Utility Solutions
A Plus partners with utility clients to offer utility solutions and ensure compliance with regulations. We are reliable with a focus on minimizing risk to customers and the environment. We deliver top-tier safety every day. Services include Vegetation Management, Clearance, Herbicide Application, Wildfire Prevention, and Clean-up, and Storm Response. We provide Certified Arborist supervised trims or removals.
OUR SAFETY CULTURE SETS US APART
Safety is the first of our SIX DONES at A Plus. Our Contractor Safety Plan eliminates and/or mitigates specific job site environmental, health, and safety hazards. We comply with all Cal Osha requirements, ANSI Z-133 Safety Standards, and Utility Standard SAFE-3001S. We have earned the standard of Golden Shovel for our dedication to public safety and the safety of our workforce. We have Damage Prevention-Safety Management Systems (DP-SMS) in place and safety is our number one focus.
SATISFACTION IS JOB ONE
Exceeding the expectations of our electric utility industry clients is important to us. We provide certified, experienced, and qualified professionals for utility tree services such as utility vegetation management, utility tree trimming, and are expert defensible space contractors.  We also serve residential clients needing fire defensible space solutions in fire-prone areas. We are highly responsive to client and utility customer needs and deliver revolutionary tree care and sustainability using a cost-effective approach.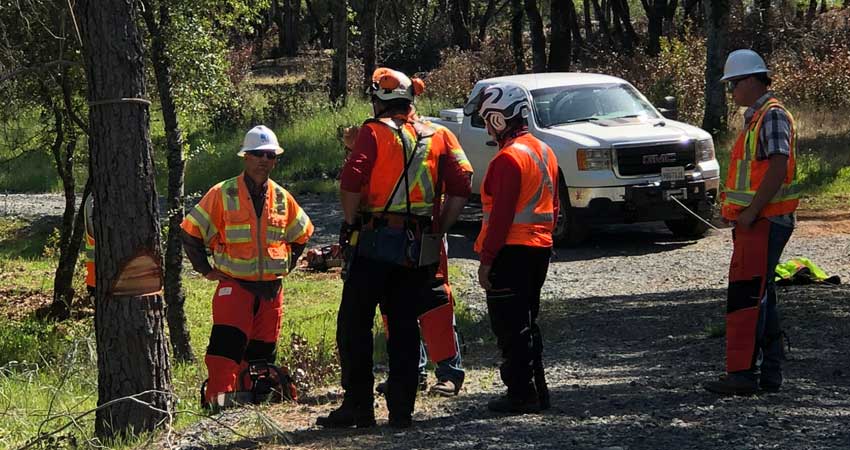 Key Benefits of Utility Tree Service
  Specialized teams with knowledgeable ISA Certified Arborists and Certified Tree Safety Professionals familiar with regulations and reporting changes within the utilities industry.
  Innovative solutions to highly technical jobs and growing concerns of the electric utility industry.
  Expert project and program management leveraging our proprietary technology platform, ArborPlus.
  Separate Utility division with full back office and account support. A dedicated team for invoicing and project management in addition to our certified crews.