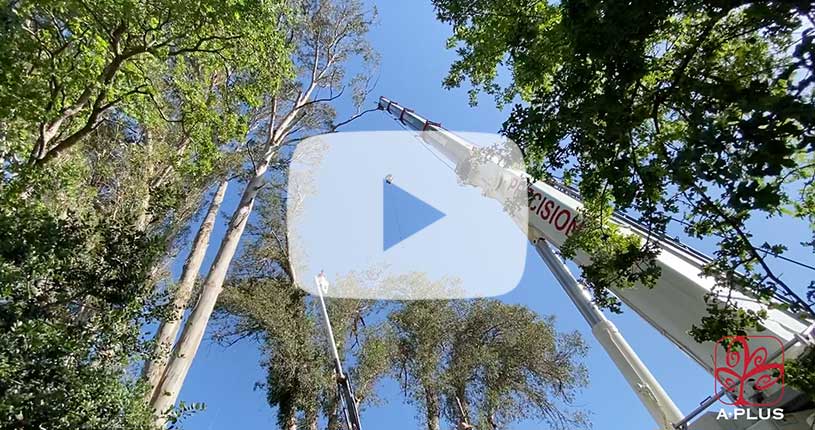 Part of our zero-waste initiative is to re-use our wood waste in valuable ways through pyrolysis and milling to sequester Carbon normally released into the atmosphere. These are our objectives by the end of 2024.
TONS OF WOODCHIP WASTE DIVERTED FROM THE LANDFILL
TONS OF BIOCHAR CONVERTED FROM WOODCHIP WASTE
LOGS MILLED FROM TREES WE'VE REMOVED
TREES PLANTED IN DISADVANTAGED COMMUNITIES
A Plus is excellent, they take the time to train all their employees to the highest standards. so that everything is done safely and efficiently. Thank you A Plus!
I was surprised and delighted when I saw the work of A Plus Tree folks. I was very happy that they allowed me to interact with them during their trimming. The crew provided fantastic professional work plus they were caring and concerned about what I wanted as well as the health and welfare of the trees that they were working on.  Unlike many other tree services that butcher the trees, the crew had great social skills to complement their professional tree trimming skills.  A Plus Tree certainly lives up to their name, which is why I give them an A plus rating.  If I could give them more than 5 stars I would. They certainly deserve the highest rating possible. I have used many services in the past 20 years and these guys are without a doubt the best of all that I have used.
These guys were great – Anthony and his team arrived promptly, went above and beyond the call of duty, and taught me a few things along the way too.  They communicate well – gave me a heads up before coming and leaving their job before they got to my place.
Very knowledgeable, helpful and always willing to work with the client! The smile on their faces tell me they love their job- who doesn't love working with people passionate about what they do!
Six stars!!! The whole team from sales to service was outstanding. These guys are pros !! They are super friendly and knowledgeable and they are very personable, not once did i feel like a "client" They made me feel like family.
A Plus Tree service came on the weekend and did a beautiful job pruning our oak tree following instructions from me and my neighbor. It turned out perfect and best of all they did a great job cleaning up.
A Plus Tree is an excellent company who goes the extra mile for our local communities. We have worked with A Plus for years and our clients have been extremely happy with their work. Thanks for helping us look good, A Plus!
A Plus handled a large job at our home … their work ethic, commitment to safety, professionalism, customer service, and specialized job skills are excellent….no comparison..truly A+!