Tree Planting,
Relocation & Transplanting
There's a saying that goes, "The best time to plant a tree was 20 years ago". There's another saying that goes, "Better late than never." So we're not here to judge, we just like trees.
If you don't know by now, trees are good. AND, if you haven't noticed, everyone has hopped on the tree train where corporate and philanthropic do-gooders have initiatives to plant millions and billions of new trees across the globe.
So why not do your part?? We can help ya 😉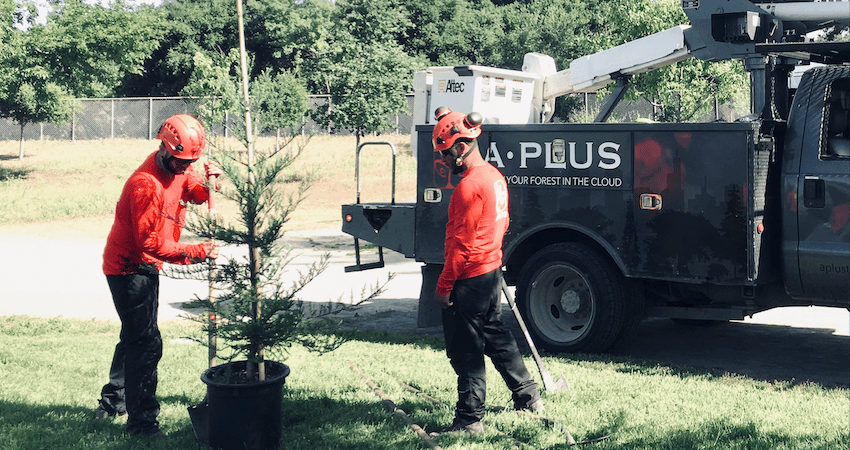 Tree Relocation and Transplanting
Should you want or require a tree or plant to be relocated, our specialists are equipped to handle the multiple factors that must be acknowledged to safely and successfully transplant your tree. Tree moving takes specialized care and skill to minimize any harmful effects when transplanting the tree.
When transplanting a tree, the rule of thumb is to cut roots no closer to the trunk than a distance equal to three times the trunk's width. So if the trunk is 10″ in diameter (when measuring 4.5 ft from the ground) then the roots can be cut at a distance of 30″ around. The further out you go, the better it is for the tree.
When preparing your tree for any sort of root cutting or relocation, it's important to keep the roots well watered. A treatment option we recommend is to apply a Tree Growth Regulator (TGR Type II) to the tree several weeks prior to relocation. The treatment redirects growth from canopy growth to the root system to increase the fibrous root growth, which strengthens tree health and helps to defend against the stress endured during the inevitable root loss that occurs during tree transplanting.
There is some equipment, like tree spades (see video above), that can make transplanting a breeze. However, access and size are two of the biggest limiting factors. If the tree is too large or the access to tight, then most likely the job will require custom boxes and/or a crane.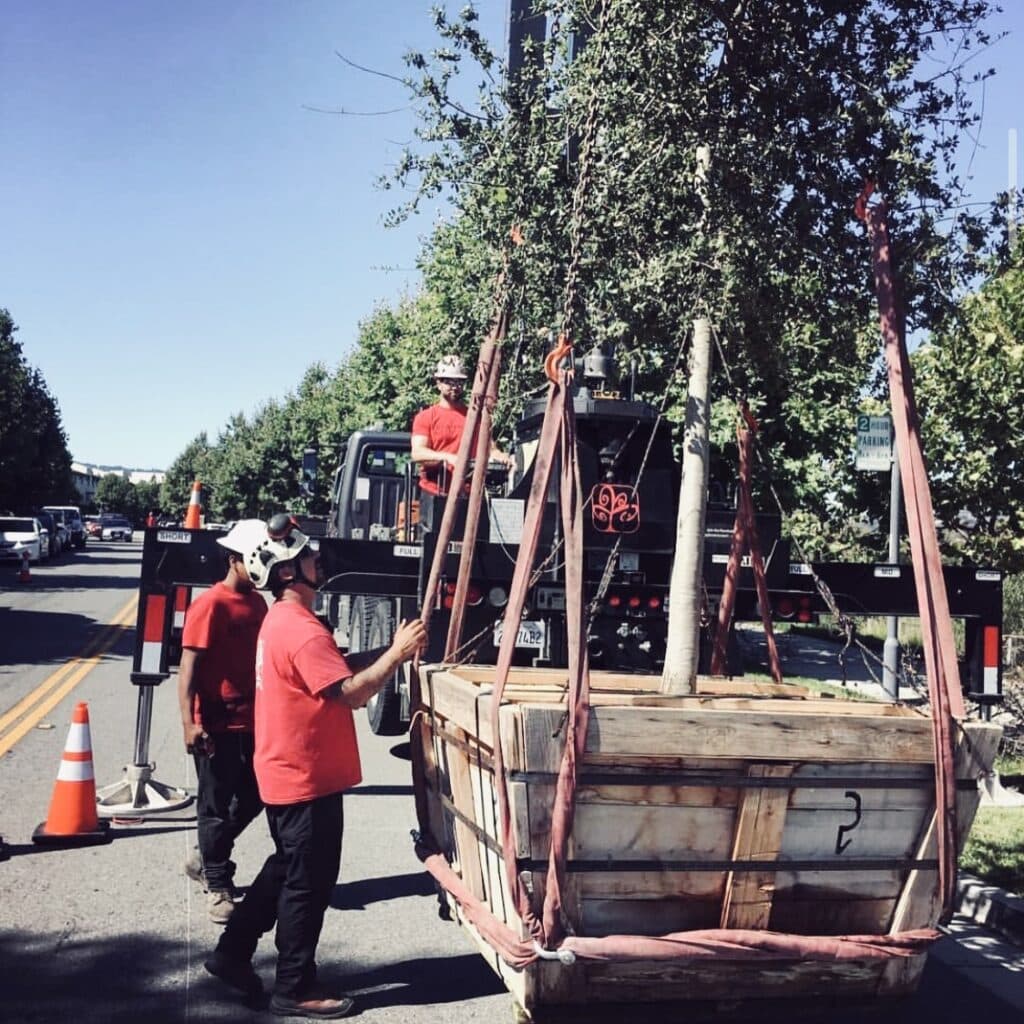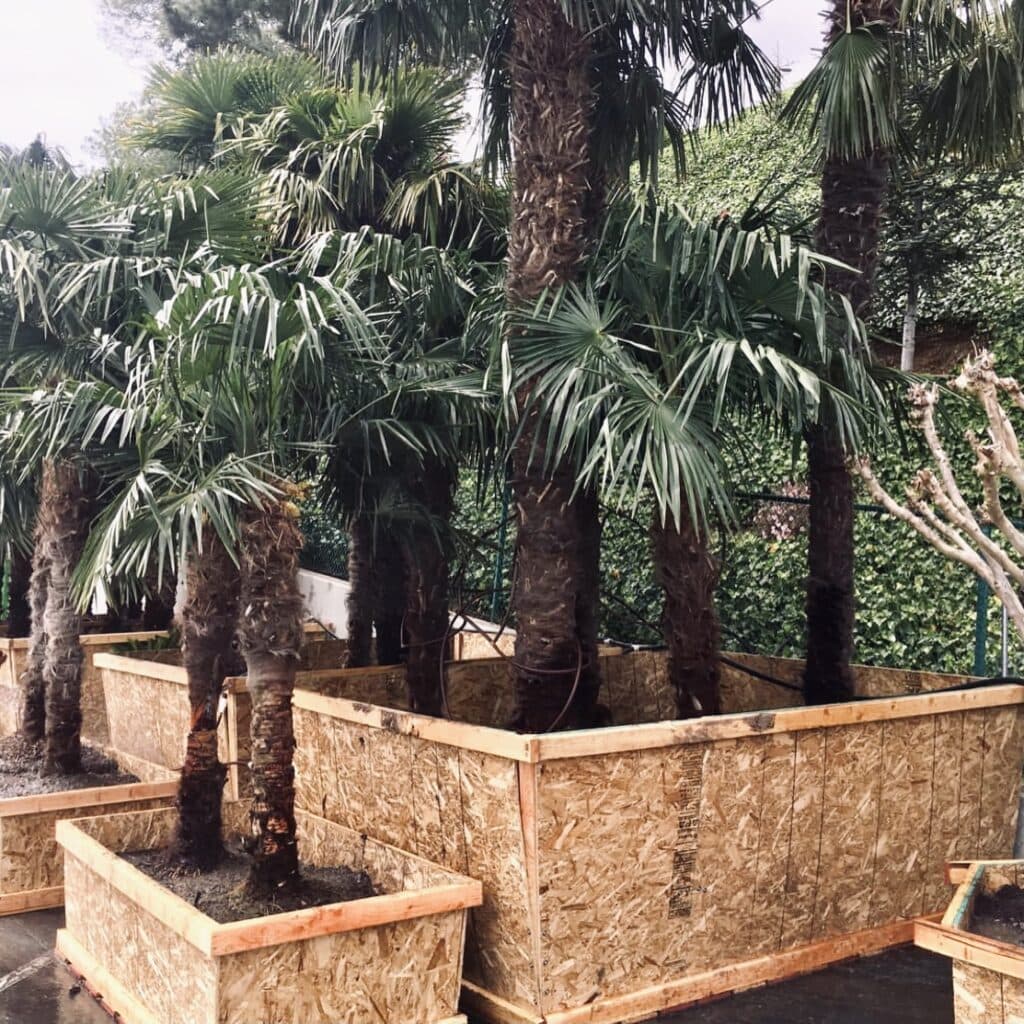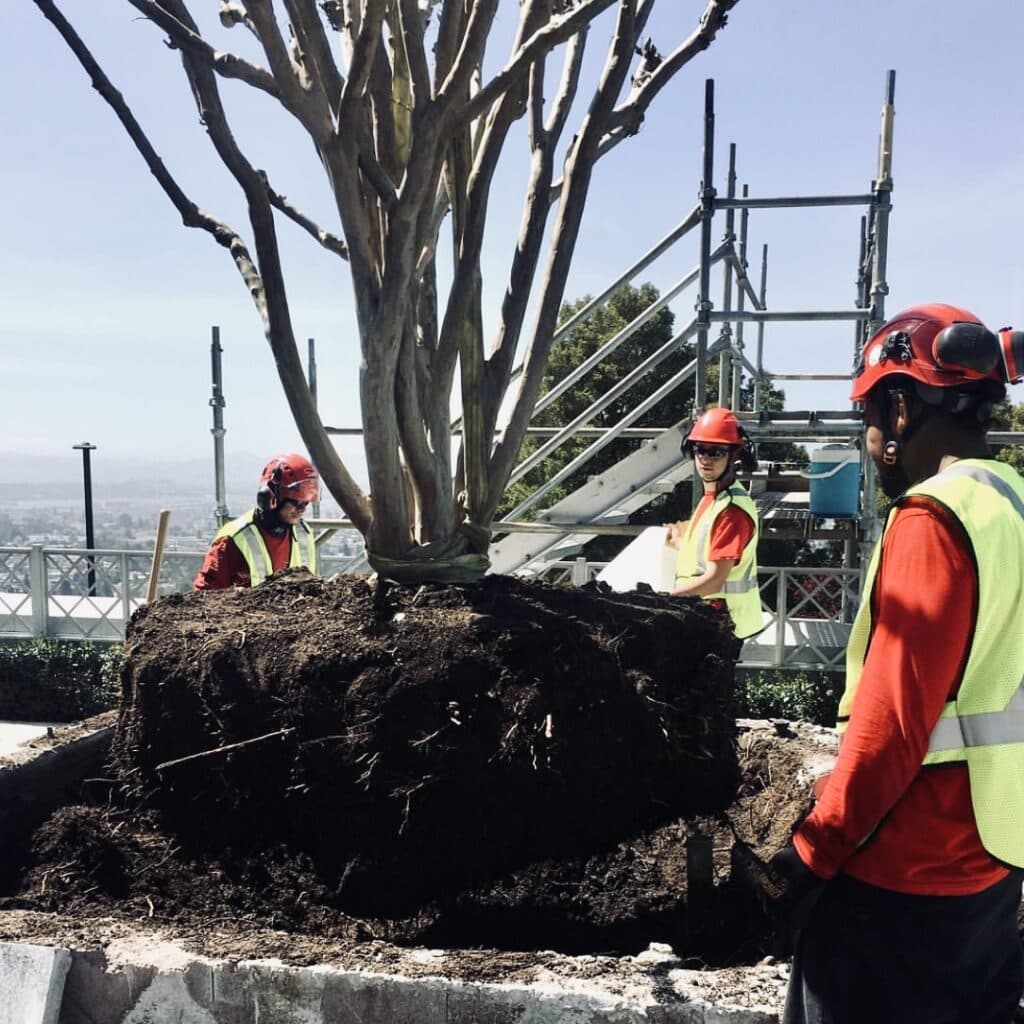 Planting Requires Planning
To receive the many benefits trees have to offer, there's a few things to consider when planning your plantings:
Right tree, right place. It's important that the correct species are planted in the correct locations. We can determine which varieties will flourish best in particular locations and soil types, select the best nursery stock, and carefully plant your new tree. Calpoly also has an excellent resource found on their site Select-a-tree website.
Watch for underground utilities. Prior to every new planting we "Call before we Dig" and have underground utilities marked. Safety is the upmost importance and need to know where utilities are in order to avoid damage to underground water lines or gas lines when planting your new tree.

Irrigation. It's also important to consider irrigation or how the tree will be water for the first couple years of it's life to be well established. Trees prefer infrequent and slow, deep waterings rather than frequent surface waterings. This allows roots to establish deeper into the soil. If you don't have irrigation access to your new trees, consider adding water bags. They usually hold about 20 gal and need to be re-filled every couple weeks.
How much water does my new tree need?
This is one of the most frequently asked questions. New trees should be well watered for at least the first 2 years of root establishment. For the first 3 months it should be about 2x a week, after 3 months about 1x a week. Each watering should be about 2-3 Gallons. Of course, it the weather is usually hot or dry, you'll need to increase the watering.
The important thing is that the root ball stay moist, but not soggy. Over-watering can be just as detrimental to your tree as under-watering.
For more information, download a free PDF on New Tree – Watering Guidelines.
• DO NOT bury the root flare, make sure it is exposed.
• Create tree "well" to reduce water run-off.
• Mulch around tree to maximize water uptake.
• Use a Treegator bag (find on Amazon) to provide a slow delivery of water over root ball.