Tree Service in Portland, OR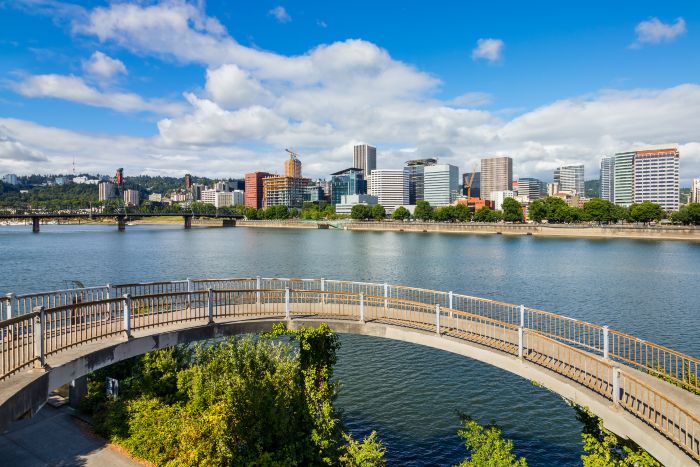 In the Pacific Northwest's heart, Portland is a green oasis. A Plus Tree complements this natural splendor, offering top-notch tree services. Entrust us to preserve and enhance the beauty of Stumptown's iconic trees, ensuring they reflect Portland's rich arboreal legacy.
We understand how important your trees are to the well-being of your property, community, and city. Whether you need a large tree removal, tree trimming, tree planting service, or advanced plant health care, we can help. When it comes to treating Emerald Ash Borer (EAB), A Plus delivers professional solutions for mitigating the damage of this invasive pest in Portland and the surrounding communities. Our Certified Arborist, consultants, and professional ground crews are local to Portland, and are certified and professionally trained in the art and science of tree care.
We provide tree service for some of the largest property management companies in Portland and are honored to be their partner in managing their urban forest. We've joined forces with another local company, Treecology Inc, to provide professional tree care services for new and established trees in the Portland, Oregon community. We offer tree service in cities, including tree service in West Mt. Scott, Kent, Happy Valley, Brooklyn, Sellwood-Moreland, Creston-Kenilworth, Oakgrove, Oatfield, Jennings Lodge, West Portland Park, Ashcreek, Englewood, Dunthorpe, Riverdale, Linwood, Lewelling, Ardenwald, Clackamas, Milwaukie and many more.
Our Team of Portland's Arborists
Our dedicated team at A Plus Tree encapsulates the spirit of Portland with arborists who understand the region's unique flora. Deeply intertwined with Portland's diverse tree species, they approach each task with expertise and a profound respect for local ecosystems.
Why Choose Us for Your Portland Tree Needs
A Plus Tree is synonymous with quality and commitment in Portland. We are repeatedly chosen for our unparalleled service, environmental spirit, and deep-rooted understanding of Portland's tree landscape. No better choice for tree care harmonizes with Portland's vibe.
WHICH
PROPERTY CAN WE HELP YOU WITH?
We aim to provide excellent communication and customer service from start to finish. We work with the needs of all property types, including HOAs (homeowner associations), large commercial shopping and business parks, municipalities, apartment complexes, and residential homes.