Vegetation Management
& Utility Solutions
The goal of vegetation management is to reduce the chance of large, damaging wildfires by reducing the hazards. Vegetation management is a broad term, but we mainly deal with 3 types:
Tree pruning

Brush

removal through the use of power saws and large mowers or masticators

Use of herbicides and tree growth regulators
A Plus also partners with utility clients to offer solutions and ensure compliance with regulations. We are reliable with a focus on minimizing risk to customers and the environment. We deliver top-tier safety every day. Services include Vegetation Management, Clearance, Herbicide Application, Wildfire Prevention, and Clean-up, and Storm Response. We provide Certified Arborist supervised trims or removals.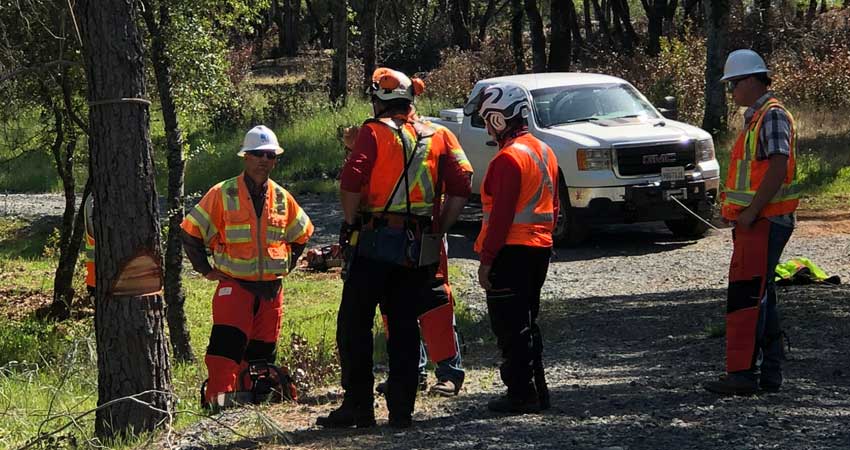 Safety first, looking cool while being safe comes second.
Safety is the first of our SIX DONES at A Plus. Our Contractor Safety Plan eliminates and/or mitigates specific job site environmental, health, and safety hazards. We comply with all Cal Osha requirements, ANSI Z-133 Safety Standards, and Utility Standard SAFE-3001S. We have earned the standard of Golden Shovel for our dedication to public safety and the safety of our workforce. We have Damage Prevention-Safety Management Systems (DP-SMS) in place and safety is our number one focus. Have we mentioned we are serious about safety?
We do what we say. Because satisfaction is up there with safety.
Exceeding the expectations of our electric utility industry clients is important to us. We provide certified, experienced, and qualified professionals for utility tree services such as utility vegetation management, utility tree trimming, and are expert defensible space contractors. We also serve residential clients needing fire defensible space solutions in fire-prone areas.