Jayce, Julian, and the crew were driving back to the yard when a tow truck slammed into a sedan right in front of them. The sedan flew off the road, rolled, and landed upside-down into the adjacent water canal.
Without hesitation, Jayce stepped on the gas to get even closer, brought the truck to a stop, then he and Julian jumped out. The driver of the sedan was trapped inside, screaming for help and gasping for air as the water filled up.
For what felt like 5 min, they tried to break the window with rocks (which is harder than it seems when underwater) and use the tools they had to pry open the door. The driver managed to crawl to the backseat and get some air, which bought more time. Finally, they found a crowbar, smashed the window, cleared the sharp glass, pulled him out and assisted him to safety.
After first responders arrived, they got back in their truck and texted their supervisor,
"Hey, there's an accident on 37 and we'll be here for a while. Should we stay clocked-in?"
No mention of, HEY WE JUST RESCUED A GUY! To them, they saw an emergency and instinctively sprung into action. Their humble attitude to such a heroic act is the most extraordinary part of this story. Like it was just another day on the job.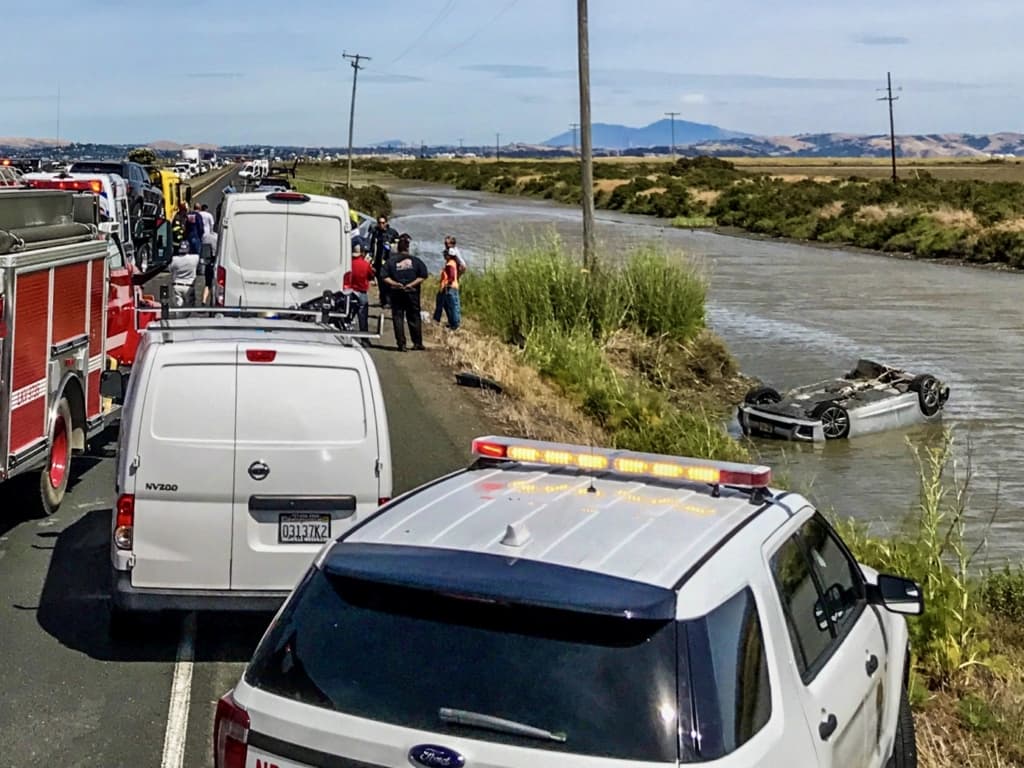 This is the third time in the past year one of our teams have been at the right place at the right time, rescuing someone in a life-threatening situation. (Read one of the other crazy stories here).
When performing some of the most dangerous work out there in tree work, it's critical to have the confidence, build the trust, and have the training to know your crew has your back.
These stories make us proud, not just because of this single incident, but because we know we have such incredible people who we get to work with every day.
Crew pictured above left to right: James, Ava, Jayce, Julian, (Tyler took the photo). Jayce and Julian were right behind the accident, the others were in another truck far behind.