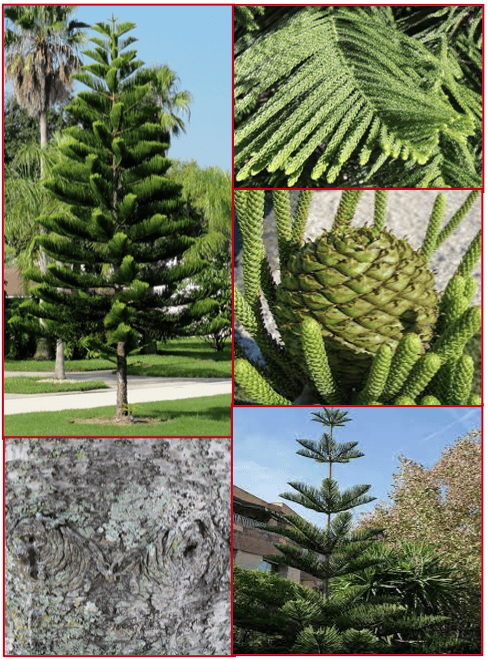 The Norfolk Island Pine has a misleading name - it is indeed from the Norfolk Islands but is NOT a true pine! Evergreen and Christmas tree shaped, the Norfolk Island Pine is often mistaken for a pine tree but is actually an araucaria, an ancient group of conifers. Easily recognized from a distance due to its symmetric whorls of branches, the Norfolk Island pine is also called the star pine in recognition of its star-like branching pattern.
NAME & ORIGIN
Family: AraucariaceaeScientific Name: Araucaria heterophyllaNative to: Norfolk Islands (near Australian coast)
CHARACTERISTICS
Foliage Type: EvergreenTree Form: PyramidalLeaves: Simple, alternatePollen Cones: Cylindrical, yellow-greenSeed Cones: Oval, 10-15 lbs heavy, rare in cultivationMature Tree Height: 100 ftMature Tree Spread: 60 ft
COMMON ISSUES
No major issues.
SUITABLE FOR:
Sunset Zones: 17, 21-24Sun Exposure: Full sun to part shadeSoil Moisture Level: ModerateUses: Larger landscape or specimen tree. Can be grown as houseplant in colder climates. Sometimes used as Christmas trees.
DID YOU KNOW?
Captain James Cook made the acquaintance of Norfolk Island pines in the 1700's. Impressed by their grand size and stature, Captain Cook exported the tree for production of ship masts. Norfolk Island pines can grow to 200 ft tall with trunks up to 10 ft wide in their native islands. However, growth proved to be slower in temperate climates, and the wood wasn't resilient enough for ship building. Yet, this slower growth enabled Norfolk Island pines to become a popular ornamental conifer worldwide. After all, who wants a 200 ft tall tree dropping 15 lb cones on their house!