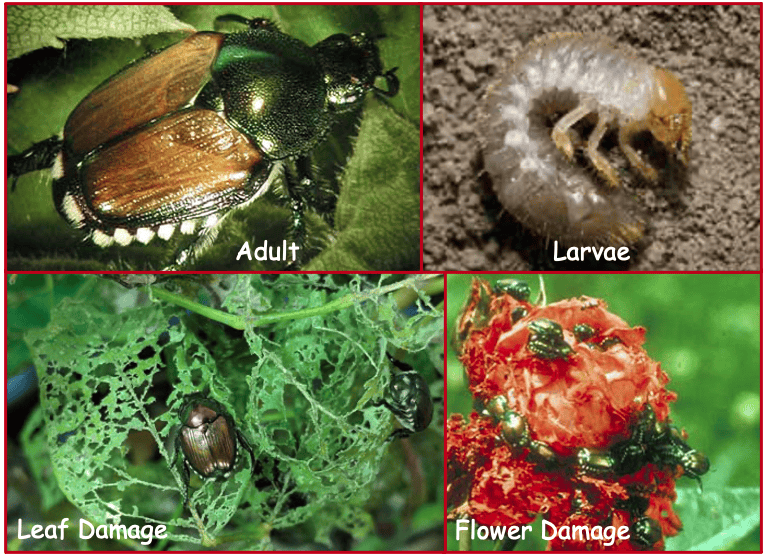 MEET THE PEST
New Jersey, 1916. The horticulture and nursery industries are on the rise. In comes ... the Japanese beetle.
Stowed away on a shipment of azalea roots, the Japanese beetle quietly snuck onto American shores. It is coppery bronze and beautiful, but the mess it leaves behind are but. With its voracious appetite, it tears through foliage, flowers, and roots of more than 300 plant species. The government tried to eradicate the pest, even recruiting children to collect beetles, paying them 60 ¢/quart (about $15 today). But, the Japanese beetle won and is now found throughout 30 states. Be on the lookout to prevent it from spreading any further!
PEST TYPE
Chewing insect (Popillia japonica)
ORIGIN & DISTRIBUTION
Native to: Japan
Distribution in United States:
Most states in the Eastern and Midwestern U.S.
Washington and Utah.
Introduced multiple times and eradicated in California and Oregon.
COMMONLY AFFECTED TREE SPECIES
Maple
Elm
Oak
Crepe Myrtle
Linden
Stone Fruits and Apple
And More
DAMAGE/ SYMPTOMS
Adults feed on leaves and flowers, sometimes on over ripe or injured fruit.
Skeletonized leaves.
Larvae feed on roots underground (more damage to turf than trees).
High populations can cause tree dieback.
MANAGEMENT
CHEMICAL:
Criterion/Merit (imidalcoprid), 1 month before adult emergence in mid spring to early summer.
Ace-jet/Lepitect (acephate), 2-3 weeks before adult emergence
Green option: neem oil, Bt.
CULTURAL:
BIOLOGICAL:
Parasitic wasps, ants, nematodes.
RHYME ZONE
"Japanese beetles have absolutely no pity,They'll chew n' chew until the tree looks shitty."