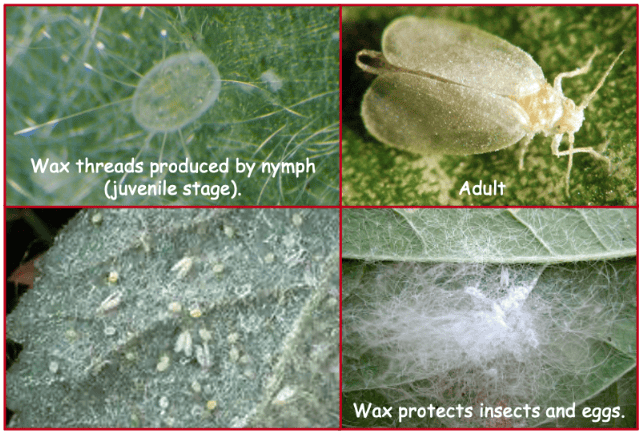 MEET THE PEST
Giant whiteflies are named from their giant length - a total of 5 mm, or 3/16". Okay, that doesn't sound very impressive. But considering that most whiteflies are only 2-3 mm long, giant whiteflies are much larger than average. Another trait of these pests is the cottony, white wax they produce. The wax protects eggs and nymphs, or young whiteflies, from predators and environmental stress. Sometimes, the wax threads reach 2-10" long - now that's impressive! - and blow off onto surrounding objects.
PEST TYPE
Piercing-sucking insect (Aleurodicus dugesii)
ORIGIN & DISTRIBUTION
Native to: Mexico
Distribution in United States: CA, HI, TX, AZ, LA, FL
COMMONLY AFFECTED TREE SPECIES
Citrus
Avocado
Mulberry
Xylosma
Pittosporum
Indian Laurel Fig
Eucalyptus
And many others!
DAMAGE/ SYMPTOMS
White wax deposits on leaf surfaces.
Wax filaments can reach 2-10" long!
Feed on phloem sugar sap.
Premature leaf death, plant dieback.
Honeydew, sooty mold.
MANAGEMENT
CHEMICAL:
Ace-Jet (acephate), Criterion/Merit (imidalcoprid).
Green option: insecticidal soap or oils.
CULTURAL:
Prune out affected tree branches. 

Giant

 whiteflies tend to stay on the same cluster of leaves, so pruning can be effective on mildly infested trees.
Wash infested leaves with strong stream of water.
BIOLOGICAL:
Green lacewings, hover and flower flies, lady beetles, parasitic wasps.
RHYME ZONE
"Honeydew, sooty mold, & cottony, white fluff,Blame the giant whitefly for causing all that stuff."