In the not too distant past, all an Arborist needed was a truck and a chainsaw. Fast forward to 2016, A Plus is in the forefront of a dramatically changing industry. We are running lean and efficient crews. The key to becoming successful is to think outside of the box and work smarter, not harder.
Our urban foresters are equipped with a vast arsenal of tools. We use small hand pruners for young trees to chainsaws for giants. One of tools that sets us apart is the awesome Mini Skid Steer made by Vermeer. It's effectively a portable tractor that we use for many different task and small enough that each one of our crews have one. But don't let its compact size fool you; the Skid Steer packs a serious punch.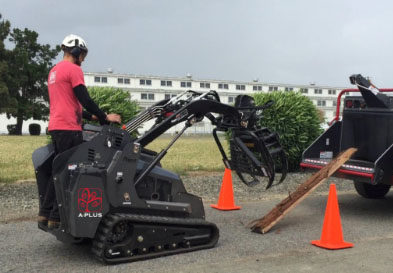 According to the May 2016 edition of Tree Care Industry Magazine, the most a tree worker can pull is up to 200 pounds, and for a very short distance. Give that man a Skid steer, and he can move up to 840 pounds, forever. That's a lot of tree to drag! This tool allows us to do more work with less man-power than ever before.
Yet, all of the skid steers and gear in the world would be useless without guidance. It's like trying to shoot free throws blindfolded!
This is where the ArborPlus app comes into play, our favorite tool of all. Developed in-house by A Plus Tree, ArborPlus allows us to create an online database of literally every tree under our care to effectively manage from a greater Urban Forest view (Treeviews.com). Our men on the ground engage their ArborPlus equipped iPad to locate the exact tree in their work scope. Each tree has a profile which tells us what needs to be done and what treatments have been done in the past. Think FaceBook for trees.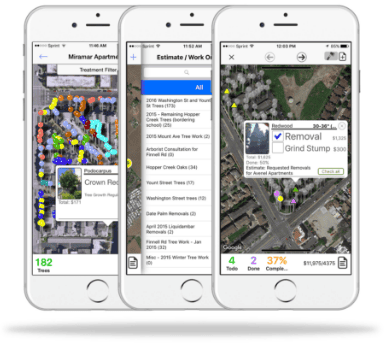 Each client has a tree portal where they can access all their beautiful tree info. AND, if you do have to remove a tree, we have our own urban mill that will turn that tree into furniture and returned right back onto your property. Quite a story to tell, eh?
With cloud-based tech and "cutting edge" equipment, we can professionally manage your urban forest efficiently and provide solutions that is more than just "cutting your trees".
Written by Apprentice Climbing Arborist: Josh Hotai