I want to take a moment to recognize the professional and amazing work of the Alameda crew! Thank you to Danny, Daniel, Jose, and our newest members Callo and Andre!
I got a call at 3:30 this morning from a client saying a 38″DBH Monterey pine had fallen… and smashed a car! Thankfully, no one was hurt.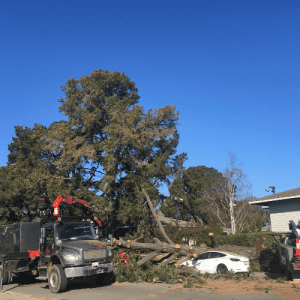 I rushed to the job site to survey the damage and found many of Foster City's Public works and Police department on the scene already – they were so worried about the situation and could not imagine how we would get this tree out of the road and off of the car. Alameda crew arrived soon there after, and they were able to completely clear the scene in a few hours, while managing traffic and pedestrians going to work/school! Amazing!!
I want to thank our amazing team as they worked quickly and were consistently blowing dust and debris away from the neighbor's houses. Foster City code enforcement officers stopped by hourly and we did not have one complaint. The property manager and regional manager watched most of the work, and they were so impressed and 'cheered' once the log was removed from the car.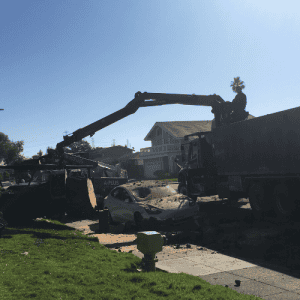 You are all rockstars and you make A Plus Tree shine!
Thank you,
Kate LeGros