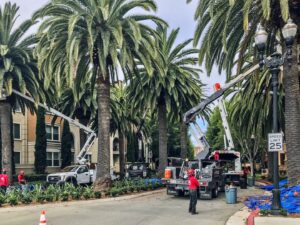 Did you know that there is an optimal time to prune your palms? When palms are pruned at the right time annually, you can actually SAVE money on pruning costs.
Palms produce new fronds every year and the oldest fronds die. Many palms also produce heavy stalks of seed pods and fruit.
Don't prune too early.
If palms are pruned too early in the year, the fruit forms and you may have to pay to prune them again.
Don't prune too late.
If pruned too late, then all the extra weight and messiness of the fruit can sometimes double the pruning price! Not to mention the possibilities of staining the hardscape beneath
Prune at just the right time.
The ideal time to prune is between LATE MARCH and MID-JULY, before the growth of seed pods and fruiting occurs (as seen in the photo below).