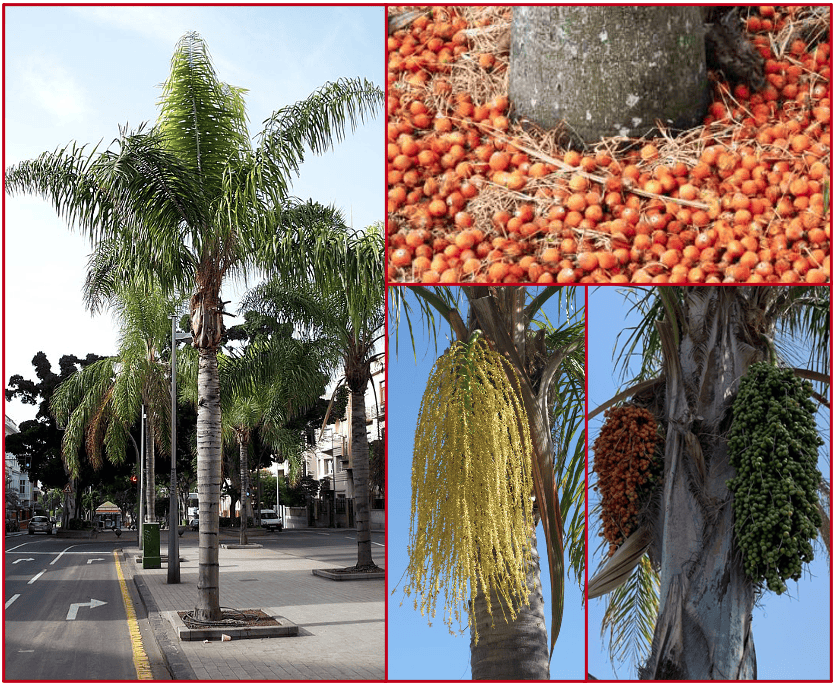 Queen palms are one of the most cold hardy and popular ornamental palms worldwide. With its gracefully arching and feathery leaves, it's easy to see why. However, the delicate flowers turn in massive fruit clusters that can weigh 100 pounds! So get them trimmed before fruit formation to avoid fruit drop and unwanted seedlings. Or, just don't stand under them when in full fruit!
NAME & ORIGIN
Family: Arecaceae
Scientific Name: Syagrus romanzoffiana
Native to: South America
CHARACTERISTICS
Foliage Type: Evergreen
Tree Form: Palm, single-stem
Leaves: Pinnately compound (feather-like), alternate
Flowers: Pale yellow, in large clusters
Fruits: Orange drupe, similar to dates
Mature Tree Height: 50 ft
Mature Tree Spread: 20-30 ft
COMMON ISSUES
Iron/manganese/potassium deficiencies, scales, root rot, ganoderma butt rot.
SUITABLE FOR:
Sunset Zones: 12-13, 15-17, 19-24
Sun Exposure: Full sun
Soil Moisture Level: Moist
Uses: Tropical landscapes, lining boulevards and parking lots
DID YOU KNOW?
Native to Brazil, Argentina, and other regions of South America, the queen palm is rooted in local history. The leaf buds and fruit provide nourishment in some regions. During times of drought, the foliage becomes animal feed. The sturdy trunks can be hollowed out into water pipes for irrigation. With its many practical uses and aesthetic landscape appeal, the queen palm is truly the queen of palms!