The roar of a chain saw. The crack of a tree as it begins to fall. A resounding crash as a rush of branches collapses to the pavement.
These are some of the sights and sounds of a typical day in the urban forest.
And who are some of these tree workers? Women wearing pink hardhats!
One of our most successful A Plus women working in the field with the Sacramento crew is Kate Miller. She is excelling in the challenging A Plus C.A.A.P. training program (also known as the "Pinkies" for their pink colored safety gear). She's learned how to tie over 17 different knots for tree climbing, operate heavy equipment (Including the chipper, skid steer, stump grinder and bucket) and master proper safety practices. Despite the challenges, her crew is supportive and sets her up for success.
One of Kate's favorite things to do is showing up the guys in her crew…just kidding (kinda). She loves to do everything from climbing trees to grinding out stumps. As Kate puts it, "I like that there is always something new to learn from all the great people that work for A Plus. There's always someone that's willing to teach you."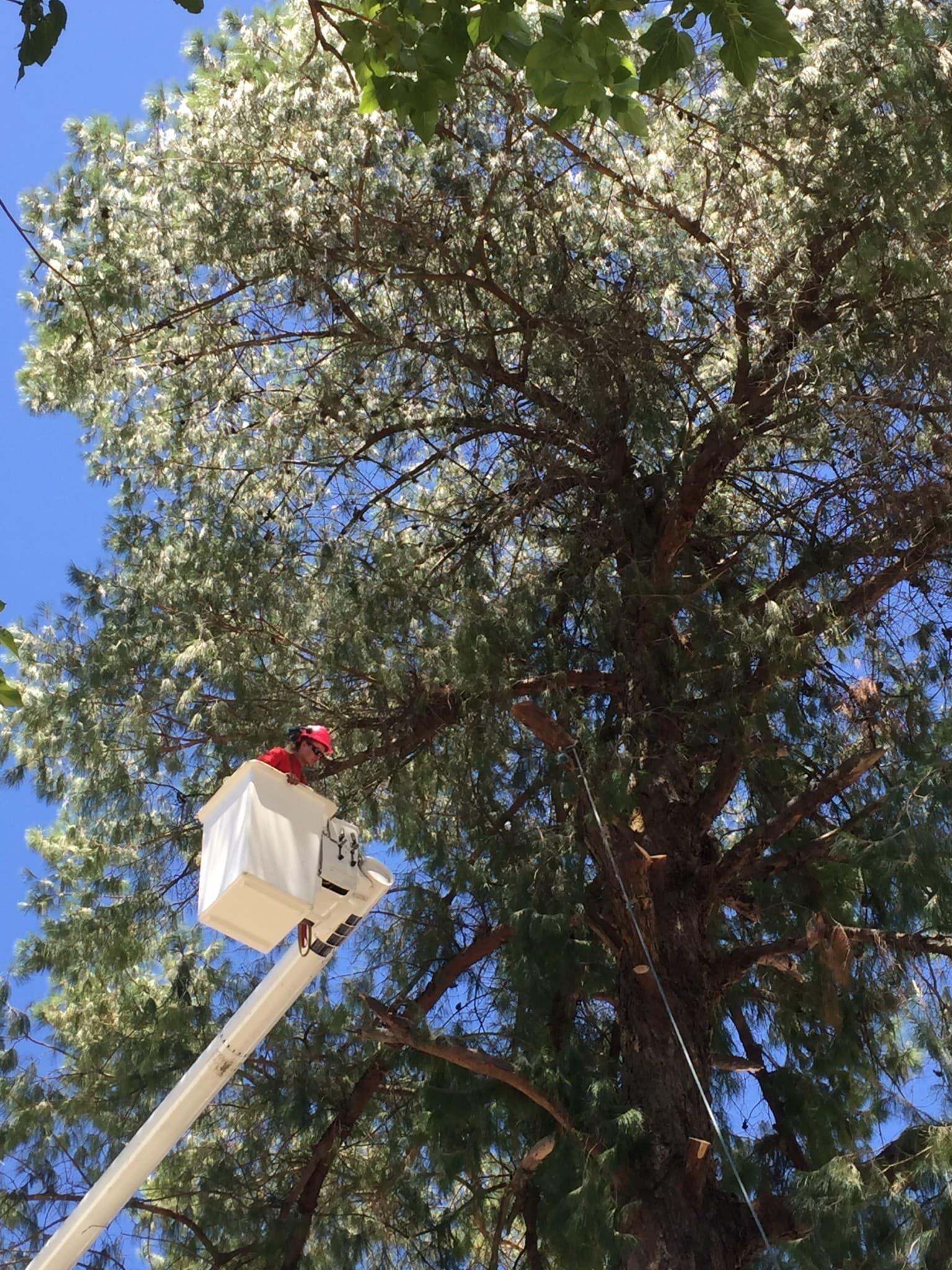 Urban forestry is a calling. We endeavor with our wits, hearts of courage and the strength of our backs. We work outside every day, rain or shine. Kate's advice for other women starting out in this field:
"Don't be intimidated by the guys. This is a male dominated industry, but women are just as capable of doing this job."
Kate's perseverance and grit has earned her the respect of her crew. Here are her pearls of wisdom that she would like to share with future A Plus Pinkies:
•  One of the main things I've done is watch the experienced people on your crew and learn from them.
•  Ask questions and don't be offended of criticism from experienced workers.
•  Take every chance you can to learn new tips, tricks, skills from anyone.
•  Get an idea of where you want to go in the industry and get advice from the people doing that job.
Here are some parting words from Kate.
"Also, always stay safe! This is a dangerous job, but if you take the proper precautions it'll be one of the most rewarding jobs you'll ever have!"
Written by: Josh Hotai