We are proud to announce that we've launched our latest app, treezi, into the appstore!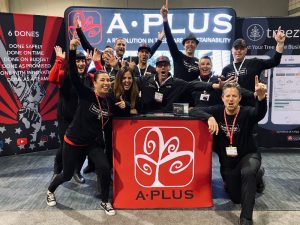 Introducing Treezi! On Nov, 7th, at the Tree Care Industry Expo in Pittsburg, PA, the A Plus team launched a new tree care software into the marketplace.
Built off our platform of ArborPlus, and the engine that keeps this big engine of A Plus moving, we saw a need in the industry for something simple but powerful.
There are a few players in the tree care software space already: most notably ArborGold, ArborNote and SingleOps. Yet we've found that these haven't quite created the solution the smaller 1-2 crew tree care businesses are looking for. We aimed to provide a product that was quick to implement, easy to learn and affordable to anyone.
And really, the true driver behind treezi is because of our late founder, Jeremy Tibbets, and his vision to give-back to the industry that gave him so much. He had a strong desire to boost the underdogs and watch them WIN. He was all about the win. (For more of the story behind treezi and arborplus, read It here.)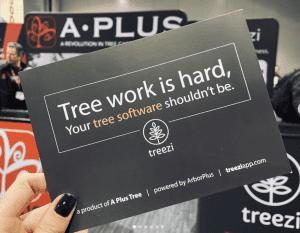 After 10 months of focused development, we were ready to release treezi into the world. And by the world, we mean that everywhere except in areas A Plus Tree operates. We can't compete with our own secret sauce!
Our treezi exposition at the tradeshow was 3 exciting days of chatting with business owners, arborists and all the great people in tree care. Launching was a big milestone for us, but even during the show, we had our dev team at home coding away on the next features to push.
We are pumped to see the life of treezi begin and where it takes us!