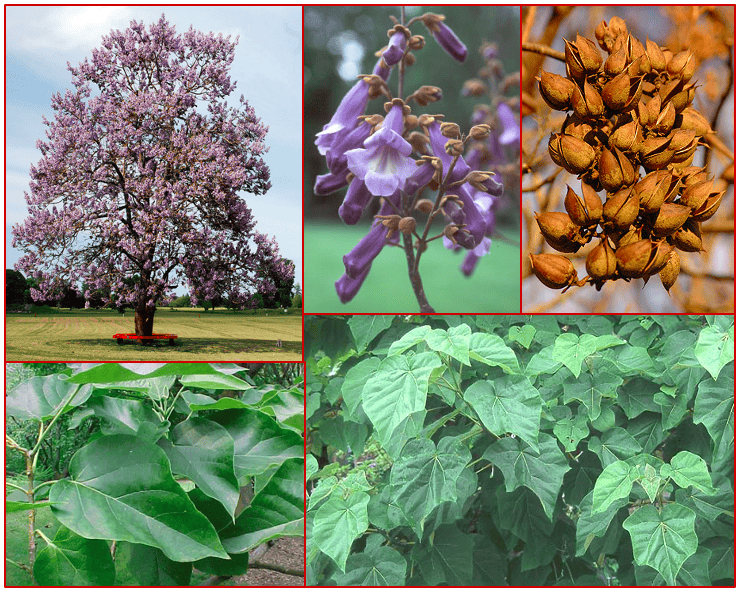 The empress tree, also called princess tree and foxglove tree, is well known for its profuse spring bloom. It produces purple, foxglove-like flowers with a scent reminiscent of vanilla. The leaves are sometimes mistaken for those of catalpa, but catalpa bears long, bean-like pods instead of the short seed capsules of empress tree.
NAME & ORIGIN
Family: Bignoniaceae
Scientific Name: Paulwonia tomentosa
Native to: China, Japan
CHARACTERISTICS
Foliage Type: Deciduous
Tree Form: Rounded to spreading canopy
Leaves: Simple, shape variable (oval/ heart-shaped/ shallowly 3-lobed), opposite
Flowers: Showy, white to purple, vanilla-scented
Fruits: Dry capsule (1.5-3.0" long)
Mature Tree Height: 40-50 ft
Mature Tree Spread: 40-50 ft
COMMON ISSUES
No serious pests or diseases, but empress tree is a potentially invasive species. It tolerates high soil acidity, drought, and infertile soils, facilitating its establishment in disturbed natural areas. It has shallow, potentially invasive roots.
SUITABLE FOR:
Sunset Zones: 4-9, 11-24
Sun Exposure: Full sun to part shade
Soil Moisture Level: Moist to dry
Uses: Specimen tree. Medium sized ornamental. Shade tree.
DID YOU KNOW?
Empress trees have highly variable leaf sizes between juvenile and mature trees. Juvenile trees have leaves up to 3 feet long, compared to mature trees that have leaves 6-12 inches long. The larger juvenile leaves can give younger trees a competitive advantage in the understory. They also contribute to empress trees' rapid growth and maturation.