U.S. Capitol Tree Tour: "The PEOPLE'S Tree" – Vallejo Stop
COME SEE THE 84 FT TREE THAT WILL BE TRAVELING ACROSS THE COUNTRY!
MINI PARADE – WALK-THROUGH "FOREST" – CAL MARITIME CADETS – SANTA + SPECIAL GUESTS – BEER GARDEN – DIY ORNAMENTS – LATIN DANCERS – LOCAL HIGH SCHOOL BAND – SIX FLAGS COAT DRIVE – AND MORE!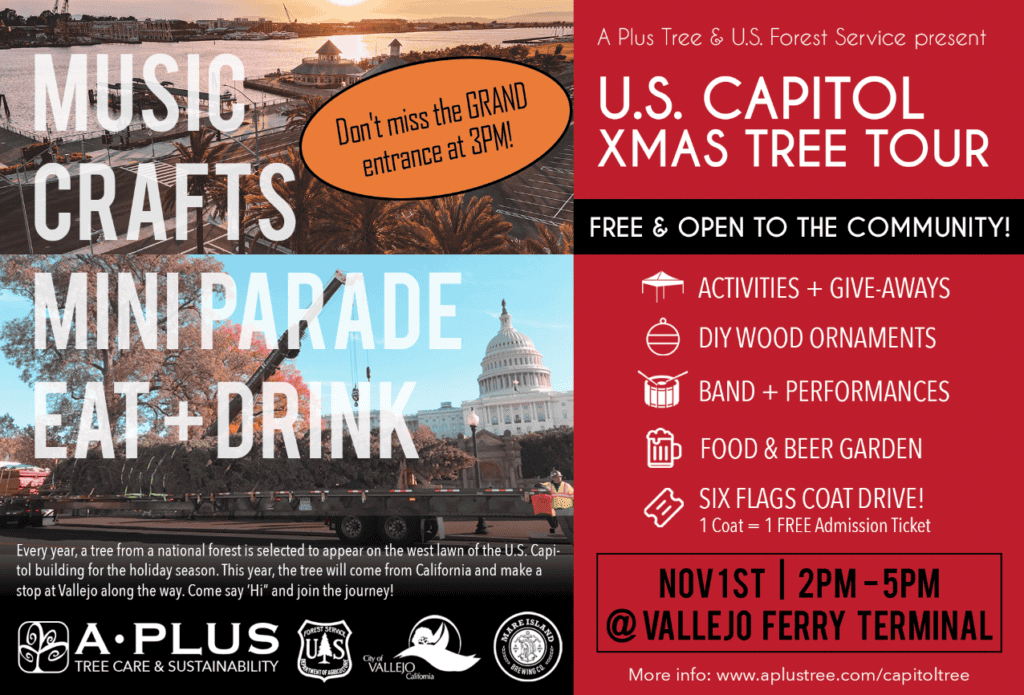 The tradition started in 1970 where every year a select tree is chosen from one of the US National Forests to be erected as the US Capitol's Christmas tree. This year, the tree is coming from Six Rivers National Forest on the North Coast of California and touring across the US before it reaches Washington DC.
The hand-selected White Fir tree is named "Sugar Bear" and you can read about the Forest Service forester who found it here.
A Plus is hosting one of the stops along the way at the Vallejo Ferry Terminal in Vallejo, CA.
The tree will make a lively entrance, escorted by Vallejo PD and a mini-parade with the CAL Maritime Cadets, Latin Dancers, Mad Hatter Characters, the High School Percussion band, our A Plus fleet, and more!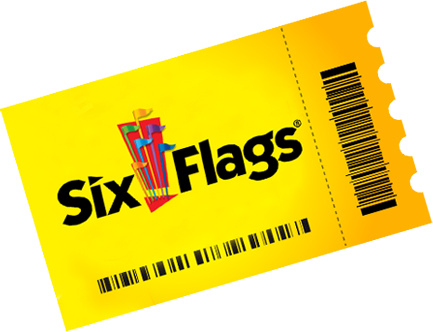 SIX FLAGS DISCOVERY KINGDOM COAT DRIVE
1 COAT = 1 FREE ADMISSION TICKET
For every coat that is donated you will receive ONE complimentary ticket valid any operating day through 1/2/2022 . Limit 4 coats. Coats must be in clean/good condition and handed to us in plastic bags. More Info >
It will be a fun-filled family event where you can make ornaments, meet different mascots, and enjoy the festivities.
There will be live music, raffles, games, food & drink for the entire community to come out and have fun!
Sponsors & Partners:
Performances by:
Quetzalli AC Ballet Folklorico (Ages 5-19 yrs old)
CAL Maritime Color Guard cadets
Percussion Band: Solano/Widenmann Alumni members from Vallejo schools
Mascots: Santa, Mad Hatter, Lion King, Smokey the Bear
Santa's Rocket Sled (Obtainium Works)
DATE:
Monday, November 1st
TIME:
2:00 PM – 5:00 PM
Grand entrance @ 3PM (Don't miss it!)
Event Category:
Community & Family Friendly
Vallejo Ferry Terminal
289 Mare Island Way
Vallejo, CA 94590
Free parking
Main Host – A Plus Tree, Inc
U.S. Forest Service
City of Vallejo
Mare Island Brewing Co.
Mad Hatter Vallejo
Six Flags Discovery Kingdom
California Urban Forest Council